"Cupid's Strongest Bow" 2008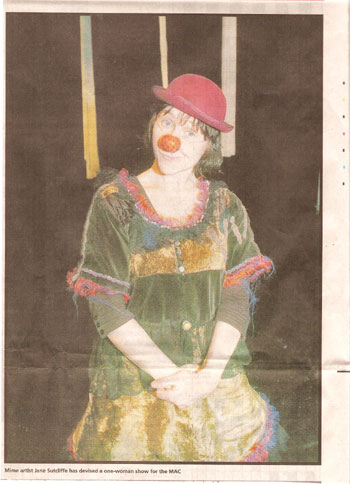 Jane has devised a one-woman show for mac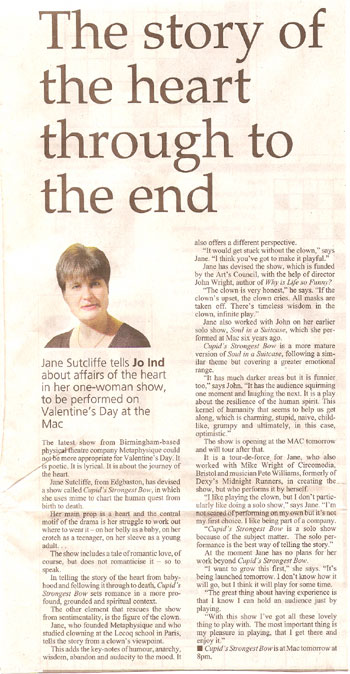 The Metro News February 12th 2008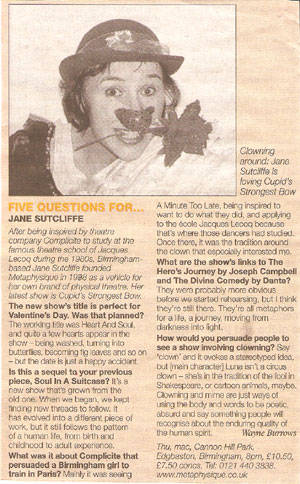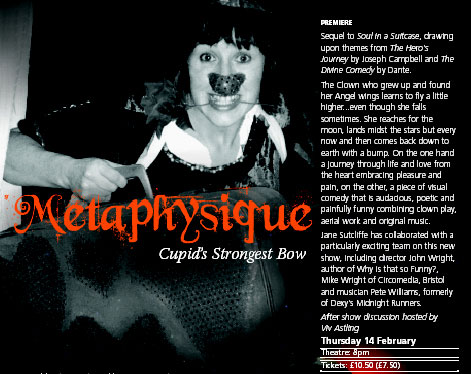 PEER GYNT
Stourbridge News
Peer Gynt June 2005
"How do you solve the staging problems inherent in a production of Ibsen's rarely performed Peer Gynt?

"Do it on the radio" is the solution so famously quipped in Willy Russell's "Educating Rita".
But raved Romanian director Vasile Nedelcu's answer is to create a fantastical epic theatrical adventure utilising more than fifty masks, puppets, live music and relying heavily on actors well-versed in the art of physical theatre.
And his ambitious, painstaking undertaking at Amblecote's Studio Theatre is to be congratulated. The 47 year old actor-turned director's almost three hour spectacle – while a little long – is a visual feast for seasoned theatre-goers. Nedelcu uses to great effect a new theatrical space created from the ashes of a former glassmaking factory to tell the mythical story of one man's journey across the globe to find himself.
The character's encounters with trolls, belly dancers and other weird and wonderful creatures are vividly brought to life through dizzingly choreographed scenes, effective lighting and staging, imaginative costumes – an array of masks ranging from almost humanistic features to the monstrously grotesque.
The Glasshouse's dynamic artistic director Michael Chase proves the ideal choice to bring to life the complex title role. His energy and ability to drift effortlessly from youthful, exuberant 20 something Peer to desperate old man makes for a compelling performance. Anna Wynnyczuk's depiction of Peer's young love Solveig is also heartfelt.
But perhaps the most stand-out characters are Ingrid, the spurned lover, the troll king's daughter (The Green Woman) – brought forcefully to life by Jane Sutcliffe; Peer Gynt's elderly mother, lovingly and sincerely depicted by Mollie Gulifoyle and Garry Brooking's sinister Button Moulder, who wants to melt down the ageing Peer into a nonentity.

Bev Holder
Chief Reporter – Stourbridge News
SOUL IN A SUITCASE
Click cutting to read review

Metro News
Moving Parts MAC March 2003
Pick of the week The Guardian
Total Theatre Magazine Spring 2003

L'ame a ta valise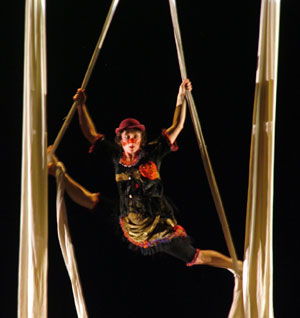 The Guardian Guide February 2008
"Roll up for mac's last ever Moving Parts Season.....
February 14th is Metaphysique with "Cupid's Strongest Bow".
The brilliant Jane Sutcliffe depicts the life and loves of a hapless clown
in this audacious visual comedy that is both poetic and painfully funny.
Surely an irresistible Valentine's treat.... www.macarts.co.uk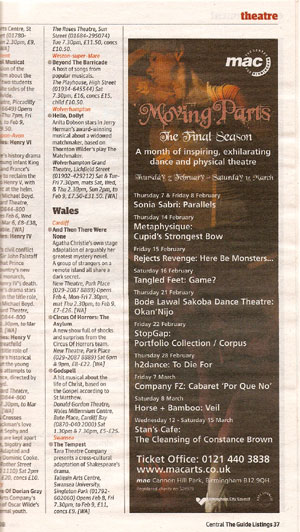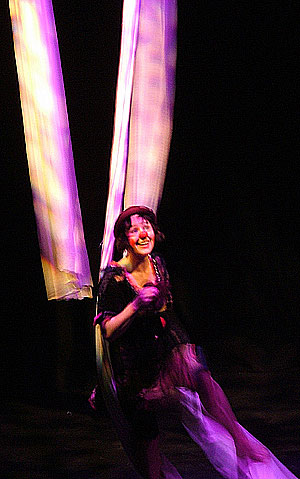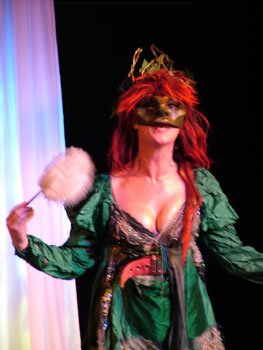 THE TROLL PRINCESS - GREEN WOMAN
The Glasshouse Theatre / June 2005
Photo: Shaun Parrin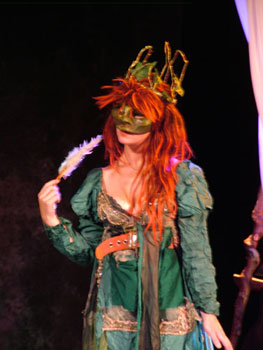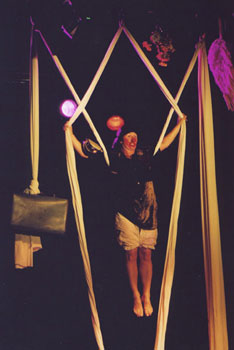 SOUL IN A SUITCASE
Edinburgh Theatre Festival August 2002
Photo: Paul Seaby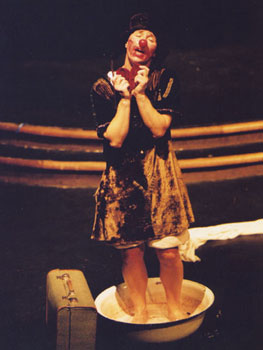 SOUL IN A SUITCASE
Edinburgh Theatre Festival August 2002
Photo: Paul Seaby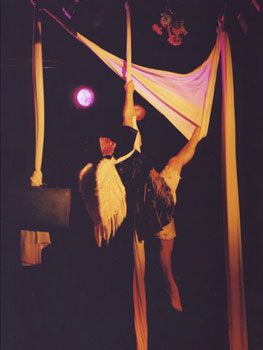 SOUL IN A SUITCASE
Edinburgh Theatre Festival August 2002
Photo: Paul Seaby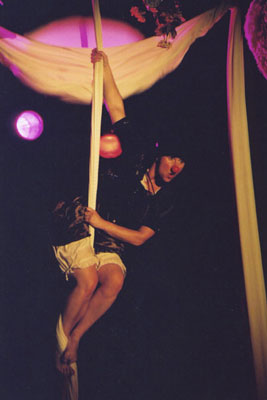 A response to
"Cupid's Strongest Bow"
The Artrix - Bromsgrove 26th June ......
"Overwhelmed ... Laughter, Tears, Love...."
"Really enjoyed the show. Had me gripped for the hour. Lighting and sound was excellent"
"Can we have a CD of the soundtrack?"
"Beautiful performance! Made me smile, frown...many special moments. Keep up your amazing skill and work. Magnificent x"
"Thank-you for sharing Luna's journey with us. Where does she end and you begin?
" A wonderful last performance Jane - I loved the teenage part it reminded me of my sister in year 9"
"It was a really clever and innovative performance - Well done!"
"I was captivated from start to finish... such warmth. The best evening I've ever spent in Bromsgrove!"
"The play was really great...loved the teenage part, I could relate to that"
"As a venue technician it is a pleasure to work on such a novel and innovative show"
"A fantastic new experience for me it provoked many emotions. A very clever performance. Thank-you!"
"Thank-you for such a thought-provoking presentation. I can't choose which part of the performance I enjoyed the most - it was all a delight, from the earliest scenes to the final moments. I hope you come again to the Artrix"
" There is so much in it, it is so rich that it is difficult to take it all in in one go... I need to see it again... a visually beautiful show""
"Another wonderful performance... I loved the way you put this one to bed"
Valentine's Day 2008......
"a triumph
a gem... absolutely brilliant...
Really, really enjoyed the show..you were fab….
Great, just great…. Congratulations!
We want to see it again in Birmingham and soon!!!
I was very close to tears...
Even now I have a tear in my eye remembering last night...
Many congratulations on your wonderful performance tonight!
Just want to say a big WELL DONE!! again for the show last night. You must be really proud.. A very fine Clown and actress...
This should be a smash!!

Thank-you very much indeed for the lovely performance last night. I found it touching, moving, comedic and entertaining in equal measures and I left in a very definite reflective mood with a gentle smile on my face. It was terrific to see such a big audience and one which really engaged with your work. Your performance was a veritable tour-de-force - I've not really seen your aerial work before - and the changing of tempi within the piece was very well judged.
With every good wish for the success of the rest of your tour...
Magnifique!
Brava!
Well done, Jane.
We really enjoyed it, and had a long chat afterwards about our favourite moments from the show. There were many!
I thoroughly enjoyed the performance which was enchanting, touching and very well received by your audience.
What an achievement! Congratulations!"
A response to
"Soul in a Suitcase"

for Jane
Roy Sadler
The Glasshouse Theatre
Stourbridge 2004

let us praise the breath
that moves the limbs
for a child of lyrics
you dance as they come

and for a child of the heart
you show to hearts
who open for you

the space in between them and you

audience and stage
onetimespaceframe

of earth
the body on the stage
speaking to the senses
suspended in the gods

and water
the flow of life
imprinting the soul

and the air
circulating through each breath
and in between everyone present

the meaning actor and audience create together

and the fire
in between trape-ease
ans strip-tease

between Krishna and the rock

the travelling self
laid bare
emerging

opening the perceived
to take from the mind's serious case
and that life has mined

no open and shut case
as we climb up and down with you
and clown with you

our souls make up
over the forlorn
to wake up
and be reborn

with you.

travelling light
with us.
What's On March 1992
Living Theatre
Kaite O"Reilly gets down to grassroots
Kissing The Cactus
Mask is one of the mediums used by Jane Sutcliffe, a physical theatre performer based in the West Midlands region. Citing Ecole Lecoq in Paris as an influence, the company use a style of performance based in movement, rhythm and gesture to explore contemporary issues.
Like Women and Theatre the company have recently worked with young people on a HIV related project. There education outreach programme brought the topic of the environment to secondary schools in Birmingham and Telford.

"Language is not a barrier in mime and physical theatre work" Jane Sutcliffe, the artistic director explains. "Birmingham has a wealth of cultural diversity and the company's work will provide access to those groups with English as a second language."

Their latest production "Kissing the Cactus" explores the theme of love and loving, inspired by Roger McGough's poem "Summer with Monika".
From first meetings to the destructive passions of bitterness and jealousy, the show explores gender, assertiveness and self-awareness reflecting our experience as people.
" It's hard to love when you are bracing for impact" Martin Amis, London Fields.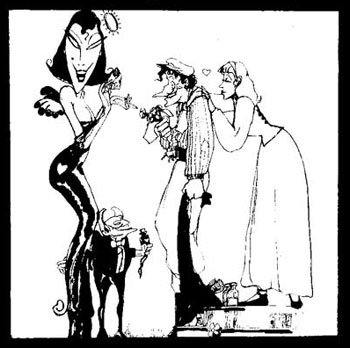 KISSING THE CACTUS

"There's love here, such love as makes unhappiness
appear to have mislaid our address"
Roger McGough