You can see a profile of Jane's work in education here

These have been undertaken in a variety of settings regionally, nationally and internationally including ... Midlands Arts Centre, Stage 2 Youth Theatre, Clwyd Youth Theatre, NAYT, Artlink, Birmingham Hippodrome, Birmingham REP, City of Birmingham Symphony Orchestra, PLAYTRAIN, Language Alive, Big Brum TIE, Artsites Birmingham, South Humberside Dance Project, Epilepsy Association of Scotland, Birmingham Royal Ballet, Dance Exchange, Ikon Art Gallery, Mead Art Gallery, Worcester Art Gallery, Barber institute of Fine Arts, Birmingham Museum & Art Gallery, Theatre 95, Cergy-Pontoise, France; Centre Selavy, France; Swinfen Hall prison, Foston Hall prison, Queen Elizabeth Psychiatric Hospital, Birmingham Children's Hospital, New Queen Elizabeth Hospital, Birmingham, Universities, Colleges, schools and early years projects.
Community & Education
Outreach Workshops
Processes are based on collaboration, improvisation, research and play. The starting point is the individual's own range of movement, creativity and emotion in response to themes explored.
Workshops available
Play and Physical Presence in Performance
The Creative Spark - Devising Theatre
Moving into Stillness - Neutral Mask
Commedia dell'Arte
Theatre Clown and Physical Comedy
"Site-Specific Performance "
at Birmingham School of Acting. Jane worked with students on a site specific physical theatre project in October 2012.
"Burning Bright"
February -June 2012
In collaboration with fireduptheatre, Jane created performance work with St. Patrick's, North Walsall and Birchills Primary schools. This work was performed in Walsall on June 29th 2012.
"The Silver Screen"
A 2-day performance residency at King Edward VI Girl's School, Handsworth March 2012. Taking the theme of the USA this project combines Charleston & Silent movies tracing the movie journey into talking pictures. Jane worked with Garry Jones & Richard Ainslie - www.offourtrolley.com and Lizzy Bean www.lizzybean.com.
Strictly Dancing -The Charleston Project
The Charleston Project ran from October 2011 - February 2012 at Balsall Heath Church Centre, Birmingham.
"Clownesse" January 2012
A Clown and Physical Comedy residency about clowning and playing. Jane worked with years 1 & 2 at Old Park Primary School in Telford, Shropshire.
"Site-Specific"
at Birmingham School of Acting. Jane worked with students on a site specific physical theatre project in November 2011.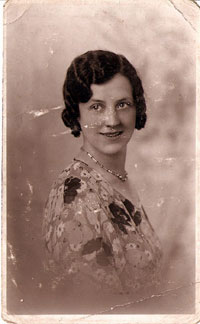 Lucy Hall Sutcliffe
Memory Lane
a Reminiscence Theatre and story project that Jane did in collaboration with The Dignity in Care Team at The New Queen Elizabeth Hospital Birmingham Autumn 2010 - Summer 2011.
"Elemental" Lower Heath June 2011
a Black Country Creative Partnerships project that Jane did alongside author Helen Cross, Textile Artist, Nicky Dupays and Public Sculptors Liz Turner and Keith Ashford www.sculpturelogic.co.uk in June & July 2011 at Lower Heath School in Shropshire.
"Acorns To Oaks"
Jane worked with environmental artist Lizzy Bean www.lizzybean.com on a Creative Partnerships mural project in May, June & July with children from Bell's Farm Junior School, Druid's Heath. This project dreamt into "When I grow up I want to be ..." and used physical theatre to develop the children's ideas.
Connect B13
Jane worked with this therapeutic community combining physical theatre and psychodramatic action method techniques throughout March & April 2011.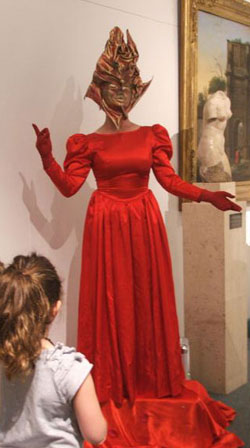 "Carved, Cast and Modelled"
With performance elements Jane led an inter-active physical theatre workshop drawing themes from the exhibition "Carved, Cast and Modelled" - at The Barber Institute on April 25th.
"How The Birds Began to Sing"
A 2-day performance residency at King Edward VI Girl's School, Handsworth in April 2011 working in collaboration with Garry Jones - www.offourtrolley.com
"Older Than Time"
Jane worked in spring 2011 as part of this project which is directed by Heather Wastie. www.mappingme.org.uk
Proxemics & Physical Theatre Practice
Birmingham University Autumn 2010
"Between The Lines"
A performance workshop with writers from North East Wales at Theatr Clwyd, Mold - November 8th 2010.
"Flare"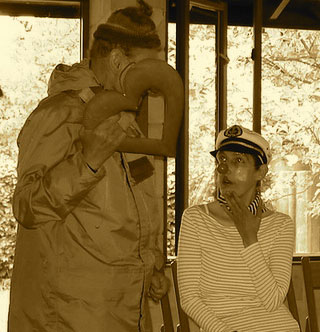 A Clown Circus-themed Physical Theatre Project for adults with learning disabilities which took place from July 13th-August 17th at St Michael's church in Stourport- on-Severn.
"Butterfly Time "
March - July 2010
explored themes of magical and enchanted lands and the characters that inhabit these realms.
Working in conjunction with Black Country Creative Partnerships and based at Bentley West Primary School, Walsall, Jane collaborated with visual artist and maker Angela Connors.
"The Creative Clown"
A two day workshop exploring the world of the spontaneous, foolish Theatre Clown - at Connah's Quay High School, North Wales on June 23rd & 24th 2010.
"Our Tale Today"
a creative collage and storytelling performance workshop, exploring the theme of fairytales at St Mary & Ambrose Church Hall 2-5pm on 12th June. Suitable for 5-10yrs
"In Your Own Words"
North Wales May 2010
Jane worked with writer Dee Rivaz www.deerivaz.com and writers groups in North East Wales to take their writing from the page to the stage - at Ruthin Library May 6th and as part of North Wales Adult Learning Festival - NIACE Dysgu Cymru at
Plas Newydd, Llangollen May 17th and Nantclwyd y Dre, Ruthin on 20th May.
"Gods and Demons" March 2010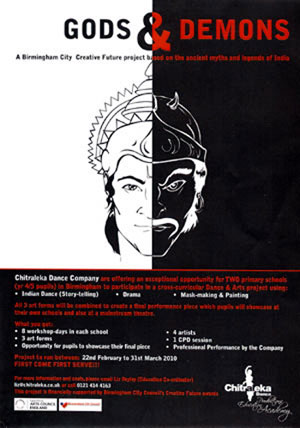 Jane worked with Chitraleka Dance Company www.chitraleka.co.uk with visual artist Pam Stewart
and with mask-maker Stephen www.maskaviz.com
"INVICTUS" 24th & 25th March 2010
A 2-day performance residency at King Edward VI Girl's School, Handsworth working in collaboration with Garry Jones - www.offourtrolley.com. This project follows on from "Carnivale & Commedia dell'Arte" of Spring 2009.
"Giggle-go-round"
is a workshop about sharing laughter and was part of "Gigglefest" Children's Comedy Festival at Birmingham Central Library in February 2010 and 2011. Children's giggles are special, infectious and magical. Come along to the space where we invite you to play spontaneously through movement and gesture and create some comic characters.
www.birmingham.gov.uk/centre for the child
"Giggle-go-round" is dedicated to Ian McDiarmid.
Maskplay Autumn 09
Jane will be running workshops in neutral mask and Commedia dell'Arte at South Birmingham College
Summer Workshops
The Art of Gesture & The Play of the Theatre Clown
Jane will be running a series of workshops at Alcester Performing Arts College on August 4th, 11th, 18th & 27th 2009.
"La Joie de Vivre"
Jane ran a 3-day residency at Edgbaston Girls High School July 20th-22nd 2009 which explored how we create visual, physical theatre drawing themes from "La Joie de Vivre" by Picasso and "The Divine Comedy" by Dante.
The Rainbow Project
Jane has worked with pupils from Adderley Children's Centre throughout 2007 & 2008. The work explored creative movement and play with under 5's. This project has been a great success.
BIP Kids
Creative Drama for Children
'A Midsummer Dream' at Winterbourne Botanical Gardens, University of Birmingham.
28th July – 1st August 2008 ... 10am – 1pm
A 5-day drama and personal development project for children aged 7 -11. The week involved drama, cooperative games & outdoor performance.
This workshop was a place where young people had the chance to share their personal stories and ideas about the world through the medium of drama. The week was aimed at helping young people to develop more confidence and enhance their communication and social and relationship skills.
We put particular focus on the telling and enactment of personal stories inspired by the title of the week: 'A Midsummer Dream.'

This project was organised and facilitated by Jane Sutcliffe & Birmingham Institute for Psychodrama. BIP provides workshops and training in psychotherapy & creative drama. Please contact Alyson Coupe or Clark Baim : 0121 454 3871
www.birminghampsychodrama.co.uk

Clown Play- July 7th-10th 2008
A four day Clown residency with students from St Benedict's School, Small Heath, Birmingham.
May play Mask 2008
A two-day workshop in movement and mask play. We explored neutral mask, larval masks and half-masks based on characters from " A Midsummer Night's Dream".
Summer residencies 2007
The Art of Gesture & The Play of Clown
17th & 18th July Waverley School, Birmingham
23rd & 24th August Alcester Grammar School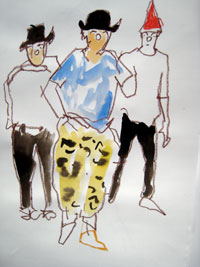 Drawing by Mike Sofroniou
The Hero's Journey
With Michael Chase and Anita Charton
Therapeutic Application of Mask in Personal and Professional Development
A path to understanding archetypes in biography
If I could hear the voice of destiny what would my call sound like? How do I become the Hero in my journey?
Exploring the victim, the hero and how archetype and myth meet in personal biography, these ideas of Joseph Campbell and Rudolf Steiner will be facilitated in small groups by dramatic movement with masks, body sculpture and improvisation.
"The Sun...Wednesday 18th October 2006"
"SEND IN THE CLOWNS"
"Free circus lessons for refugees"
"Refugees and asylum seekers are to get free classes- on being CLOWNS. Twenty-five between 12 and 25 will be taught by professional circus performers. The seven-week trial course - partly aimed at helping new arrivals learn English - will cost the taxpayers more than £2000.
It will be paid for by The Belgrade Theatre in Coventry, West Midlands, where the classes are being held. The theatre is funded by The Arts Council and the local city council. Angry Bob Spink, Tory MP for Castle Point, Essex said: "This is a politically correct waste of money. It could be spent so much better. You could use it to give these people practical skills to to hold down a job. You could employ more people in the immigration service to remove those who are bogusly seeking asylum. That would be in their best interests and the best interests of the public".
But Justine Themen, the Belgrade's assistant director for community and education, insisted: "Clowning is very British and we want to use it to raise the confidence and social skills of these people. Some people may be in the country because they are escaping persecution. The workshops will be funny and will take people's minds off what might have been a depressing reality. As well as having fun, the participants will build up language skills which will be a major help for them. It is about learning by stealth"
Experts estimate that Coventry has about 8,000 refugees."
j.scott@the-sun.co.uk
December 20th 2006 - Jane has just completed this seven-week long project working with a group of ten young refugees. It has been a success and the group are looking to make and present a performance project at The Belgrade in Spring 2007.
Education Outreach Work

"THE LION" based on "The Chronicles of Narnia" in collaboration with The City of Birmingham Symphony Orchestra for three consecutive years 2001 - 2003 working with schools in Birmingham, Worcester and Sutton Coldfield to produce performance work performed with players from the CBSO.
"Madame La-La" project April 2005 based upon Degas' paintings at The Barber Institute of Fine Art, Birmingham in collaboration with actress Helen Terry.
MAC Physical Theatre Course

Thursdays 7.30 - 9.30
www.macarts.co.uk

Winter Term - Mime & Physical Theatre
" Finding the animal within (For Jane)
He'd just finished his first ten week term at a mime, movement and physical theatre class and now....
He coughed like a cat, he ate like an antelope, he ran like a rat, he shaved like a snake, he moaned like a monkey, he drew like a giraffe, he wept like a wolf, he breathed like a bear, he washed like a wallaby, he filled in forms like a fox.... and so he felt satisfied that the money he had paid for the course had been money well spent"
Robert Geoghegan 1998
Spring term - Mask work Neutral, Full, Half masks & Commedia dell'Arte
"The mask is a lens which focuses on the essential. In theatre training, it assists in developing improvisation, gesture and play. In performance, the mask unlike anything else, takes us beyond the personality of the actor into the universality of the character... And in personal development, masks help us to unmask and liberate aspects of one's personality."
Mike Chase
The Glasshouse Theatre, Stourbridge
Summer Term - Physical Comedy and Clown & Fool
"The individual's clown is the repressed self..... it deals with bringing out of each individual the child which has grown up inside him.....
"Apostles of Silence - The Modern French Mimes"
Mira Felner
"If playfulness is at the heart of our creativity, then for some of us at least, clowning is the key to that playfulness"
"Simple Clown" from "Why is that so Funny?" ... A Practical Exploration of Physical Comedy
John Wright